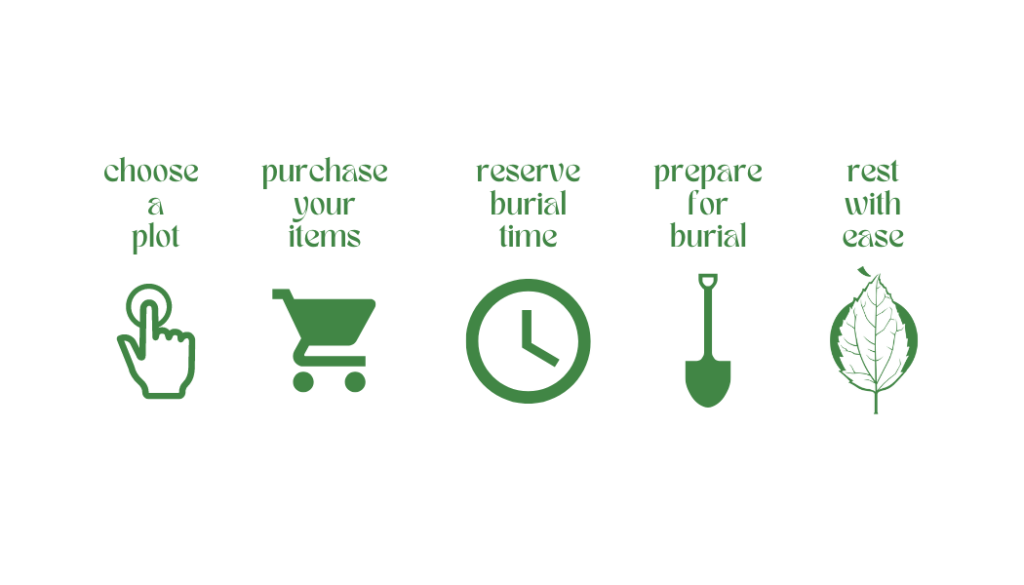 Step 1
The first step is to decide if Sòlas is the right place for you. We are not a "conventional" cemetery, and we have regulations that must be followed in order to be buried in our preserve. Please review our "Rules and Regulations" page for specifics. Unfortunately there are no exceptions to these policies, as they are required in order to maintain our official certification of "Natural Burial Cemetery" under the Green Burial Council. We acknowledge that these rules may seem very strict, but it is truly our desire to offer a natural return to earth and these policies help ensure minimal disruption to the environment.
You can find information about Natural Burial in general and about Sòlas Natural Burial Preserve on the "FAQ" page. You are welcome to walk the preserve yourself, or you can contact us for a guided tour. If you have additional questions please contact us via email or phone and we would be happy to assist you.
Once you've decided on Sòlas Natural Burial Preserve, the next step is to purchase a burial plot. Navigate to our "Available Plots" page, and choose which plot you would like. You may purchase multiple plots at a time for additional family members if you would like the plots to be next to one another. (Please note: if you purchase one plot now and additional plots at a later time, we cannot guarantee the plots will be next to one another.) Thank you for trusting us to provide your final resting place.
Step 2
Once you have added your plot to the cart, you can choose additional add-ons. Specific information about these add-ons can be found on our FAQ page. You can choose from our list of native plants, trees, or flowers from our local landscaping partner that we will provide for you to plant during the burial. Add your items to the cart and head to the check out, where you will complete the purchase of your items.
Step 3
When it is time to bury the deceased in the plot you have purchased, you will need to reserve a burial time. You are required to reserve a time in advance in order to bury someone in the preserve. This prevents multiple burials from occurring at the same time and guarantees each family has adequate space and privacy. You are also able to reserve our open-air park shelter for a wake or celebration of life as part of the burial. You must make a reservation in advance in order to use the shelter. Reservations for burials and the shelter can be made on our "Reserve Time" page.
Step 4
Decide your plan for burial. Most people choose to use a funeral home to manage their needs. You are welcome to use any funeral provider, but keep in mind embalming and metal/treated/stained caskets are prohibited. Please look at our "Rules and Regulations" page for details on what is prohibited in our burial preserve. Since embalming is prohibited, funeral homes/mortuaries can use alternatives such as refrigeration, dry-ice, or a closed casket to store the body until burial.
Step 5
You will receive an email with instructions for burying your loved one. We will not dig a grave or prepare the site unless you specifically request so, and this will be done at an additional cost. Otherwise, you will be given instructions on how to access shovels and how to dig the site yourself. Each person participating in digging will be required to sign a liability waiver releasing Sólas if injury occurs. Again, if you are unable or unwilling to dig the site, please contact us.
Step 6
Time for burial. Once the site is prepared and your time is reserved, you will transport the body for burial. You may arrange with a funeral home to transport the body to the burial site. Please review our "Rules and Regulations" page on what can and cannot be placed in the gravesite. If you choose to purchase a headstone (you may only use one of our approved headstones) or a plant/tree/flower for the site, it will be stored in a locker inside the park shelter. You will receive an email with the combination and instructions on how to access these items on the day of the burial. After burial, you will be responsible for replacing the dirt on the site. (Please contact us in advance if you are unable to complete this yourself.)
Step 7
Relax in the knowledge that your loved one is at peace in Sòlas Natural Burial Preserve. Please note, when you purchase a lot, you are actually leasing the land until February 1, 2121. After February 1, 2121, the land may become a dedicated as a public park so everyone can use the paths and trails. We encourage you to visit the site anytime daily from dawn to dusk. Our walking paths and trails are open for use, and we encourage you to walk the preserve and celebrate the life of your loved one through a peaceful return to nature.
Please note during construction:
Park shelter will not be ready until some time in 2024.
No bathrooms will be available until the shelter is completed.
You can park across the street at Dorn Creek Wildlife Area until the parking lot is finished.
Answers to most questions can be found on our FAQ page or Rules page. If you need more information or assistance please contact us via phone or email and we would be happy to help you.