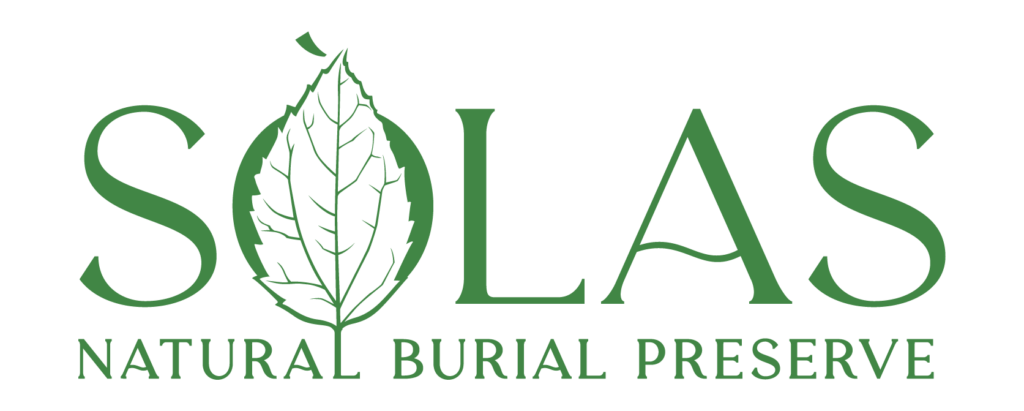 ---
Welcome to Sòlas Natural Burial Preserve. We are a 20-acre Natural Burial Cemetery located in Middleton, Wisconsin and we are an officially certified Natural Burial Cemetery by the Green Burial Council, which is the international certifying body for Natural Cemeteries.
Natural Burial is a type of burial that uses operational and burial practices that have no long-term degradation of soil health, plant diversity, water quality, and ecological habitat. This includes prohibiting the use of embalming, caskets, vaults, treated wood, metals, concrete, plastic, and all other non-biodegradable materials. All above-ground structures are prohibited, including traditional headstones. All burial sites are marked by GPS and can be found on the "Locate Deceased" page of our website. Families may choose a very small, flat headstone with their loved one's name, however we also offer the choice of a native plant, tree, or flower to plant as a grave marker instead. We also offer a Digital Headstone™, which is a web page used to memorialize the deceased and can be viewed 24/7 from anywhere.
Families or individuals may purchase one or more burial plots at a time. We also have a designated burial area for Veterans in order to honor their service. Pet burials are welcome in our normal burial plots, as well as our designated pet burial area. Cremation remains may be buried in a regular burial plot the same way as non-cremated remains, but scattering ashes is strictly prohibited on our property.
Our Natural Burial Preserve also offers an open-air shelter that may be reserved for burial ceremonies, wakes, and celebrations of life. Online reservations for use of the shelter are required in order to guarantee each family has adequate time for their event.
Our walking trails and paths are open to the public for use from dawn to dusk. Please respect any active burials or services by giving them adequate space, silence, privacy. Our cemetery is meant to look like a park as opposed to a traditional cemetery, and to celebrate nature. You will not see any headstones, and native grasses/wildflowers will cover the burial sites. We welcome everyone to walk, meditate, sit, reflect and enjoy the beauty of Sòlas Natural Burial Preserve. Dogs are welcome on the paths and trails only, and must be leashed at all times. You must clean up after your pet. Please respect that this area is still an active burial ground, and services may be occurring during your visit.
---
Tour the Site
---
---